When shopping for holiday gifts for your significant other, you may wonder how to find the perfect match in their fashion style or a favorite hobby. But whether your sweetheart is a bookworm or burning up the gym court, you'll find lots of gift options they can use. And to help you start your holiday shopping, I've put together a short list for finding thoughtful gifts for your significant other.
Thoughtful Gifts for Your Significant Other
Selecting thoughtful gifts for your significant other can really show how much you love them. And if one of their primary love languages is gifts, it can really fill their tank! It can be difficult to decide what to get the one you love, especially if they seem to have everything they need already. This list of of gift ideas for the one you love is full of ideas to help you.
Best Gifts for Your Significant Other
Your favorite person will love the feel of a soft Faux Fur Throw Blanket that you can cuddle with them on the couch. Choose from a variety of colors and find one that fits your decor.
A His and Her Spa Gift Basket is a thoughtful gift for your significant other. Order one premade, or make you own with their favorite scents. And if you want to go all out, add a set of His & Her bathrobes.
Sneaker GiftsShop Now
Does your significant other love shoes? You can't go wrong when shopping for the perfect fit in shoes and sportswear gifts for the fitness buff. Consider the Adidas Originals Swift Run, a classic that works double duty as a performance and casual shoe. This shoe provides comfort plus support, and with a reputation for being one of the best options in sneaker gifts, you'll be at the top of your game when you give your partner this shoe.
Why not start a monthly date night movie night in with a monthly popcorn subscription? You'll discover yummy flavors with three unique popcorn flavors delivered to your door every month!
SideTrak Swivel Attachable Portable Monitor for Laptop

Give the gift of productivity with the new SideTrak Swivel Attachable Portable Monitor for Laptop. Your significant other will love the added screen from SideTrak for everything from streaming their favorite shows, facetime the family, multitasking, and everything in between. It's shown that adding a second screen increases productivity by 20 to 30 percent, saving you more than eight hours each week. Which could mean more time together! Does your loved one work remotely? Help them become even more efficient with this amazing gift. The screen rotates 270° & swivels 360° and it can be attached, freestanding, and can be used in portrait mode. It is compatible with Windows, Chrome, & Mac.
A gift of gourmet chocolate truffles is sure to make your chocolate loving better half smile. from candy stores online or at your local chocolate shop. Plan a special dinner at your favorite restaurant or order takeout for an evening at home and save the sweet stuff for an at-home dessert.
Kindle Paperwhite Essentials Bundle

If your loved one enjoys reading, you can't go wrong with the Amazon Kindle Paperwhite Bundle. They'll love the fabric cover that comes with this bundle, and you can choose between three colors for the cover. If the two of you love road trips, your significant other will love this waterproof Kindle that stores thousands of titles for those long rides when they like to read. And it's got up to 10 weeks of battery life.
A custom music keychain with the Spotify code to your wedding song or your favorite song is among the most meaningful gifts for your significant other. This would be a perfect gift for an anniversary gift or any other special occasion.
Fujifilm Instax Mini 40 Instant Camera Black and Instant Film

If your belle or beau loves to photos, they'll love the Fujifilm Instax Mini 40 Instant Camera Black and Instant Film. They'll remember how thoughtful your gift was every time they snap pics at home or on vacation, and it will help preserve their favorite memories.
Conversation Starters for Couples

The Conversation Starters for Couples deck is a meaningful gift for your significant other, and it's a great stocking stuffer. These conversation starter cards are based on Christian values and can be enjoyed over dinner, on date night, or any time you would like to dig a little deeper.
Engraved Never Forget That I Love You Wallet Insert Card

This Engraved Never Forget That I Love You Wallet Insert Card is a sweet way to remind them, anytime they reach into their wallet, of just how much they truly are loved.
My Daily Pour Monthly Coffee Subscription

The My Daily Pour Monthly Coffee Subscription is a brilliant gift idea for coffee lovers! Each month, they'll receive two 12 oz bags of whole beans (you can request ground coffee if you prefer) . One is a mild blend and the other one is a seasonal roast. They can think of you as they sip and smile with their mug of hand-crafted, high quality coffee.
A Personalized Planter Box would make a special gift for your significant other if they love plants. Be sure to customize when you order by selecting "Enter Engraving" and entering your personalization, up to 32 characters! Available in 3 options: Solid walnut, Solid Mahogany, Eastern Cedar or Pine painted timeless rustic style – cream paint and distressed to look vintage and aged.
The Plant Club Box SubscriptionShop Now
Speaking of plants — if your loved one really loves plants, consider The Plant Club Box Subscription. With this subscription, each month your loved one receives our feature plant of the month along with your complete 'Plant Story'. In addition, the monthly membership box comes with an id tag, goodie kit, soil and decorative pot. <– did ya see that? The decorative pot is included!!
A Hand Casting Kit for Couples is an impactful gift for your significant other. It has everything you need to memorialize your love in a keepsake statue.
Create instant ambience with a Portable Tabletop Fire Pit. This portable fire tabletop is fueled by smokeless, odorless, bio ethanol or rubbing alcohol. It can be used indoor or outdoor. It is sure to make any space the place to be.
Personalized Family Name Sign with Established Date

This Personalized Family Name Sign with Established Date is perfect for indoor and outdoor decoration. Like your relationship, this is a gift that is meant to last since it's made of high quality steel. It comes in various sizes, to suit your decor needs.
An Our Bucket List Journal is the perfect gift for your significant other and you to record ideas and goals to accomplish. Whether you want to visit the East Coast in the fall, go sky diving, or snorkel the reefs, take time to think what you both are passionate about and record your thoughts on this journal. Add things to your bucket list, and be sure to fill in the completion date and any notes about the experience. It'll be so much fun to look back on The Best Part of each adventure together.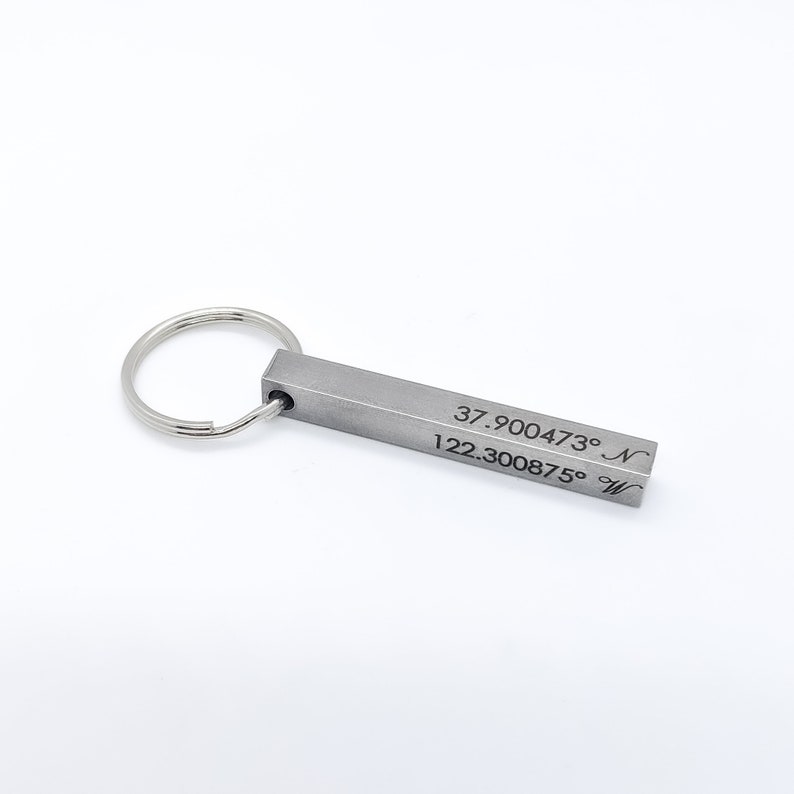 Personalized Coordinates Keychain

A Personalized Coordinates Keychain is a sentimental gift for your significant other. You can personalize it with the coordinates of a location that is special to you, such as your first date, where you got engaged, or even where you got married. It is a great gift to celebrate your love with your significant other. You can even have all four sides engraved, so you could put the coordinates on two sides, your initials on one, and the date on another.
Insulated Folding Picnic Basket

Extra Large Outdoor Blanket

Make a plan for leisurely afternoon picnics together with this Insulated Folding Picnic Basket and Extra Large Outdoor Blanket. Afternoons hectic? Picnic under the stars for a romantic evening.
Life & Pursuits Turmeric Body Oil – Ayurveda Massage Oil for Skin

Of course, a gift of Massage Oil comes with the expectation of a massage or foot rub. Perfect for massages, this clean, conscious and carefully crafted Turmeric Body Oil helps even skin tone and reduce the appearance of scars and dark marks over time. It also relieves irritation and soothes while softening for comfortable, hydrated skin.
Showing Love With Thoughtful Gifts
Choosing meaningful gifts for your significant other doesn't have to be incredibly difficult. Just think of the things that they enjoy and go from there. You can also customize your gift selections with their name or initials for an added touch. And when shopping for this year's gift, consider any of the above mentioned ideas to show your love in a thoughtful and easy way.
***This gift guide originally published in November 2022 and will be periodically updated with ideas for gifts that your loved one would cherish.***