I've been wanting to put up a bird feeder for a while, but couldn't find one that I really liked. Then I found the Garden Treasures White Chair Platform Feeder at our local Lowes.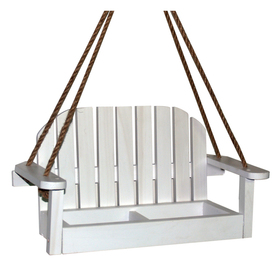 So, we bought it, along with some bird seed, and hung it up outside our patio door.
Did you find the bird in the photo above?
Watching the birds in the mornings is quite a treat. We have a pair of cardinals that come and feed, but I can't seem to catch a photo of them. We've also had several morning doves, robins, and other species visit. The kids absolutely love to watch the birds.
Best $15 (tax included) I've spent on entertainment in a while.
Be blessed,
Virginia