[button link="https://thatbaldchick.com/pr-friendly/disclosure/" target="_blank" rel="nofollow" color="T"]Press Sample[/button]
Little Beasties is a WAHM cloth diaper maker with two LO's of her own.  She creates her own designs, many of them custom embroidered and all of them cute.  She recently sent me her Damask One Size Custom Pocket Diaper for review with Little Miss.  Ohmacuteness!
Check out a few of her other adorable designs…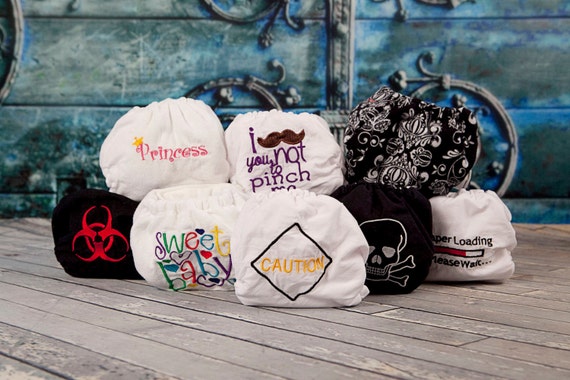 That "I mustache you not to pinch me" is beyond cute!
Little Beasties One-size cloth pocket diapers are designed to fit babies from birth to about 36 pounds.  They have triple reinforced snaps. Little Beasties have a soft outer fabbric (i.e. flannel) and a PUL ( polyurethane laminate) lining to make them water proof.  They have a soft alova inner material, that goes against baby's skin, which wicks moisture away.  The leg side walls contain messes.  They also have adjustable waist and leg elastics for maximum adjustability.  A three-layer microfiber and flannel insert is included.  The insert is adjustable with snaps.
Check out Little Beasties on Facebook to see all of her latest creations!
I'll be giving away a Little Beasties diaper in my Cloth Diaper Derby later in May (winner will be able to choose any in-stock diaper from the Etsy store, with the exception of custom or ruffle diapers), so stay tuned!