I am finding it hard to believe that we're homeschooling 1st grade with our youngest this year. Little Miss is a bright and lively 6 year old. She loves to play, and she loves to do whatever her big sister does. This year we're hoping to encourage her to develop her own passions, too!
Homeschooling 1st Grade
1st Grade Math
Little Miss will be using MathSeeds for Math while we're homeschooling 1st grade this year. We have a family subscription to Reading Eggs and MathSeeds this year. You can get a 4 week free trial through September 30th, 2019!
She'll use the MathSeeds program online as well as the MathSeeds workbook, 200 Essential Math skills for First Grade. You may recall that I reviewed the Reading Eggs and MathSeeds Workbooks last fall. I held onto the Math 1 book for this year. :D
Math for 1st Grade – 200 Essential Math Skills (Mathseeds)

She'll have access to CTCMath, just like my other two kiddos. She prefers MathSeeds online because of the animations.
Reading Eggs & Math Seeds Free TrialFree Trial
SAVE 50% + 6 Bonus Months of CTCMath!Save Now
1st Grade Science
As I mentioned in my Homeschooling 5th Grade post, when I asked Sister what she wanted to study in science this year, she gave a resounding, "ANIMALS!" Little Miss replied with, "Me, too!" Take a look at our 1st grade curriculum for science.
She'll be taking a science class at co-op, using the National Geographic Young Explorers magazines. The lessons will be mostly centered on animals and the natural world. The Nat Geo Young Explorers magazine is similar to the Nat Geo Explorer, and is designed for educators, it just has a lower lexile score.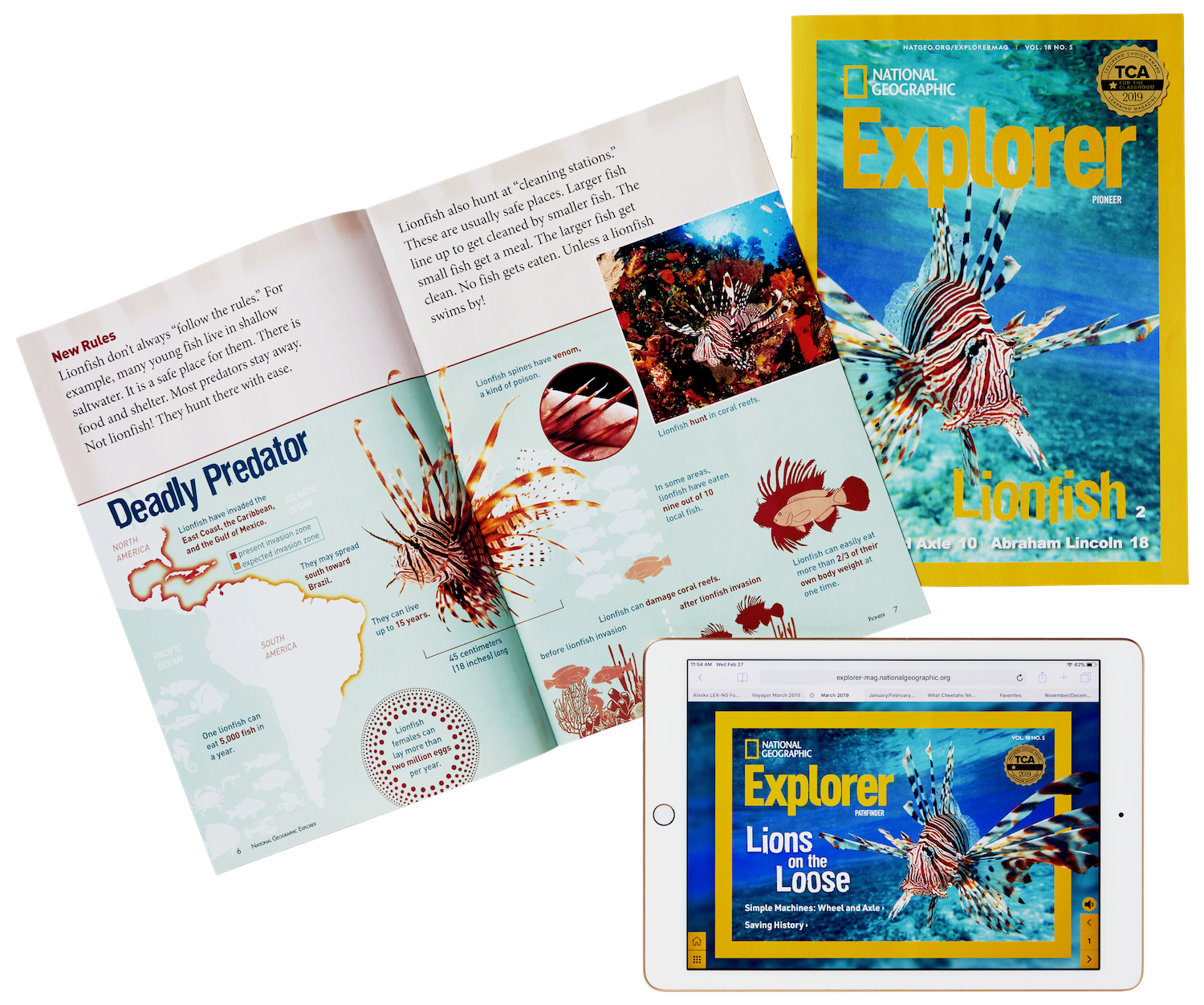 National Geographic Explorer MagazineView Now
She will share the National Geographic Kids subscription with Sister.
She will also use the National Geographic Little Kids First Big Book of Science.
National Geographic Little Kids First Big Book of Science

Of course, she will have her own copies of the Habitat Create-a-Scene printables that Sister will be using.
1st Grade Language Arts
You may recall that we used the Explode the Code A, B, C set in Kindergarten. We will continue working our way through Explode the Code while homeschooling 1st grade. She's currently halfway through Book 1, which we started over the summer.
Explode the Code 4 Books SET: Book 1, 2, 3 and 4

Explode the Code 4 Books SET: Book 5, 6, 7 and 8

She will also use the Reading Eggs site and the Reading for 1st Grade workbook.
Reading for 1st Grade – 240 Essential Reading Skills

1st Grade Reading Books
We'll be reading a lot of books as we homeschool 1st grade. Little Miss is taking an Explore the World through Books class at one co-op. This class will explore literature through reading. Activities themes will vary from week to week, and include social studies, literature, art, music, math, or science. Since we have those covered, I'm just counting it all toward reading. She is also a Seussical class, which is based on Dr. Seuss's Picture books, at our other co-op. In it, she'll study of spelling, language, character traits and have a ton of fun in general.
Here's a few of our selections for home reading…
Aidan the Wonder Kid – a book about food allergies and comes with a free curriculum. I want her to understand how incredibly important it is to be aware of others who may have food allergies around her.
Aidan the Wonder Kid Who Could Not Be Stopped: A Food Allergy and Intolerance Story

Ms Greenthumb's Garden and What Do I Do With All These Vegetables are super cute books about gardening, from the plants point of view.
Ms. Greenthumb's Garden

Ms. Greenthumb's Garden: What Do I Do with All These Vegetables?; Book II of the Ms. Greenthumb's Garden series

In "Mrs. B, Substitute Grandma" readers are introduced to Katy and Andi who are on a field trip to Appleton Farm, but first the children need an adult to accompany them. Mrs. B comes to the rescue and teaches the girls the value in sharing and working together.
Catterfly is Born, by Alma Hammond, is fast becoming a family favorite! It teaches about butterflies and about being different.
The Travel with Me series, by Alma Hammond, is a must read series. All books are stand-alone reads and celebrate a different country. Super Rooster and Wonder Cat is about facing your fears. Andre the Five Star Cat is about friendship and gratitude, and Serafina Soars is about following your dreams.
Super Rooster and Wonder Cat (Travel With Me)

André the Five-Star Cat (Travel With Me Book 2)

Serafina Soars (Travel With Me Book 3)

I first read Cami the Kangaroo Has Too Many Sweets as a Kindle Unlimited selection. Little Miss LOVED it. So, we've added the hardback book and it's sequel, Cami the Kangaroo Has Too Much Stuff to our shelves. Both will be well loved by the end of the year.
Cami Kangaroo Has Too Many Sweets

Cami Kangaroo Has Too Much Stuff

Who Do I Want to Become is an endearing book that teaches it is more important to focus on WHO you become rather than what you become.
I Don't Like to Eat Ants is great for all of us who have picky eaters in the house.
We'll use Zetta the Poinsettia in the winter. It is a book that inspires self-worth.
I really wish I'd had There's a Monkey in My Backpack four years ago, when Sister first started struggling with dyslexia. My hope is to inspire Little Miss to be empathetic toward others who struggle with learning in various areas.
There's a Monkey in My BackPack!

I'm quite certain I've left a few out, so I'll come back and add them when I figure out what they are. Lesson planning has my mind a bit scrambled. LOL
1st Grade Social Studies
Little Miss is taking a 50 States class at co-op where she'll be learning the names of the 50 States, their Capitals and special facts about each state. She'll also use the Weird But True! USA book to learn even more fascinating facts.
She's also taking a Middle Ages class, which will use the Story of the World Volume 2. We own all four volumes, as Mister has used them all. I'm tempted to invest in the audio versions, because we use these quite a bit.
The Story of the World: History for the Classical Child: The Middle Ages: From the Fall of Rome to the Rise of the Renaissance (Second Revised Edition) (Vol. 2) (Story of the World)

1st Grade Electives
Little Miss is also taking an art class at co-op this year. It is a very interactive, hands on class with a bit of art history added in.
Hop on over to these other curriculum posts while you're here!
There's a Back to Homeschool Blog Hop coming up on September 2nd that you should also check out! I'll add the link soon!